Energy Medicine, Shamanic Healing,
& Soul Retrieval
Cissi Williams
BSc (Hons) Ost. Med., ND, DO
Shamanic healing
This is thought to be one of the oldest healing practices, stretching back thousands of years and linking to indigenous cultures across the globe. In our modern world it is classified as energy medicine, as shamanism believes that everything consists of energy, and when an imbalance is created work may be needed to be done in order to bring the energy back into balance again.
A shaman knows how to bridge the invisible and visible world, and is able to travel into the unseen world in order to bring about a healing in the physical world. For example, the shaman can travel into the Under World (which is the client's unconscious mind) to find what is holding the client back, in the form of old wounds, limiting beliefs or inherited ancestral patterns, or even wounds from previous incarnations.
There are many versions of shamanic healing across the globe, and the lineage I work with comes from Peru (I trained with The Four Winds Society and Amaize Education), but being a Modern Day Shaman I also use wisdom gained from many of the other healing modalities I have working knowledge of, such as 'A Course in Miracles', Soul Coaching, NLP and the inner healing mechanism accessed in Cranial Osteopathy.
HOW DOES SHAMANIC HEALING WORK?
There is a Luminous Energy Field (LEF) that is like a light body that surrounds us. This light body contains an archive of all our personal and ancestral memories, early-life trauma and wounds from former lifetimes.
These records or imprints are like dormant computer programmes that when activated compel us toward behaviours, relationships and events that mirror the original wounding. This is to help us heal, by giving us a chance to view what is happening from a higher perspective, but it also causes us to repeat our personal history, and as we go through these traumatic events we clog up our luminous energy field even more, affecting its ability to inform our reality in a healthy and balanced way.
These imprints can also affect our soul's ability to be fully present in our lives, causing us to feel unsure of our path, our purpose and our highest destiny. Shamanic healing can help to clean up this energy field, so it can return to its natural state of health and wellbeing, enabling our soul to better guide us to create the life we are meant to live.
WHAT CAN IT HELP WITH?
Shamanic healing can be helpful when there is a need to let go of past trauma, or if we notice we are repeating old patterns, suffer from mild depression (without a known cause), feelings of emptiness, anxiety, inability to see a clear path forward, weak immune system or a feeling of not belonging. These may all be indications that the luminous energy field has been compromised in some way.
Soul retrieval
This is a technique used in shamanic energy medicine. This type of holistic medicine views us as being composed of body, mind, soul and spirit, and having an energy field that surrounds our physical body, which can inform us about how we live, the wounds we carry and how we can heal. These wounds can be from traumatic experiences in our past, they can be inherited from our ancestors, or they can be carried forward from our previous incarnations.
Energy medicine believes that at the core of each human being exists a spiritual being and that for healing to occur it is important to acknowledge our spiritual nature and how we are here to learn and grow from all the experiences life brings us. When we find the learnings we are able to transform the pain from the past into healing medicine gifts, which we can carry with us as pearls of wisdom into the future.
When we experience a traumatic event a part of our soul may disconnect from us, which can lead to a feeling of missing something, as if we have lost a part of ourselves, or other symptoms such as confusion, fatigue, apathy, depression, feelings of emptiness, recurring thoughts, listlessness, lack of self-confidence and anxiety. Soul Retrieval involves the practitioner locating and recovering the lost soul part and then helping the client reintegrate it into their present day life, so the client can benefit from the soul part's vitality, light, passion and gifts and in this way feel more whole, more empowered and reconnected with their higher divine consciousness.
A Soul Retrieval session also includes Transformational Soul Coaching.
A Soul Retrieval takes around 90 minutes, and can be done by phone, Skype or in person.
About Cissi
Cissi is a Cranial Osteopath, Naturopath, Soul Coach, Energy Medicine Practitioner and Trainer of NLP specialising in holistic Osteopathy, Osteopathy for Babies and Children, Coaching for the Mind & Soul and Energy Medicine. She is passionate about giving tools, techniques and wisdom to others so they can heal and evolve spiritually. She does this through her writing, courses, seminars and treatments. She qualified as an Osteopath and Naturopath from the British College of Osteopathic Medicine in London in 1997, after having undergone a four-year full-time osteopathic training leading to a Bachelor of Science (First Class Honours) in Osteopathic Medicine.
She did her Practitioner and Master Practitioner training in NLP in 2002 and eventually became a Trainer of NLP after having trained with John Grinder (co-founder of NLP), Carmen Bostic St Clair and Michael Carroll. She later did her training in Energy Medicine, both with the world-renowned Four Winds Society, and with Jeanette Mantel (who used to be the European Trainer for Four Winds) in Sweden.
She has written four books: Transformational NLP – a spiritual approach to harnessing the power of neuro-linguistic programming (Watkins Publishers), Spiritual Medicine – 7 Spiritual Potions to Heal Your Life (O-Books), Supercharge Your Dreams Into Being – By Trusting Your Soul's Wisdom (O-Books) and The Wellbeing Handbook (Findhorn). She runs courses and trainings, sharing how we can connect more fully with our Soul and in that way heal our lives.
In 2009 Cissi co-founded together with her husband Alan the Swedish magazine Inspire: A Body, Mind and Spirit Guide to Well-Being, and in 2015 they set up the holistic health magazine Inspired Wellbeing in the UK (available in WHSmith and independent newsagents).
CISSI'S THERAPIES
Osteopathy and Cranial Osteopathy
Cranial Osteopathy for Babies and Children
Transformational Coaching and Spiritual NLP
Soul Retrieval with Coaching and Energy Medicine
Contact Cissi
Telephone: 07432 030826
Email: cissi@inspiredwellbeing.net
Article on HEAL YOUR LIFE WITH SOUL RETRIEVAL
WHAT HAPPENS IN A SESSION?
Usually a session lasts 90 minutes, and it is always combined with Transformational Soul Coaching, so we would find out the reasons for why you have come, and then the healing session would help to clear your luminous energy field, as well as give you more clarity and insights so you can move into greater alignment with your mind, soul and body.
A healing session may consist of some of the following techniques:
The Illumination Process which helps to clear imprints from your luminous energy field and clears, balances and strengthens your chakras.
Soul Retrieval which helps to heal old wounds, and reintegrate 'lost' or fragmented soul parts that have disconnected from you due to previous trauma so you can connect again with your soul's gifts and light.
De-coupling which balances your nervous system.
Extractions which clear away negative and intrusive energies that do not belong to you (and which can cause physical, emotional and mental imbalances and sabotaging patterns).
The Death Rite which assists those who are going through a major transition in life, where one aspect of life is dying, such as the end of a dream, the loss of a job, the ending of a relationship, and also the end of one's life. This process helps you move through the transition with peace and harmony, creating more room for a new life to be born.
Article on ARE YOU WALKING THE PATH OF A MYSTIC, HEALER OR SHAMAN?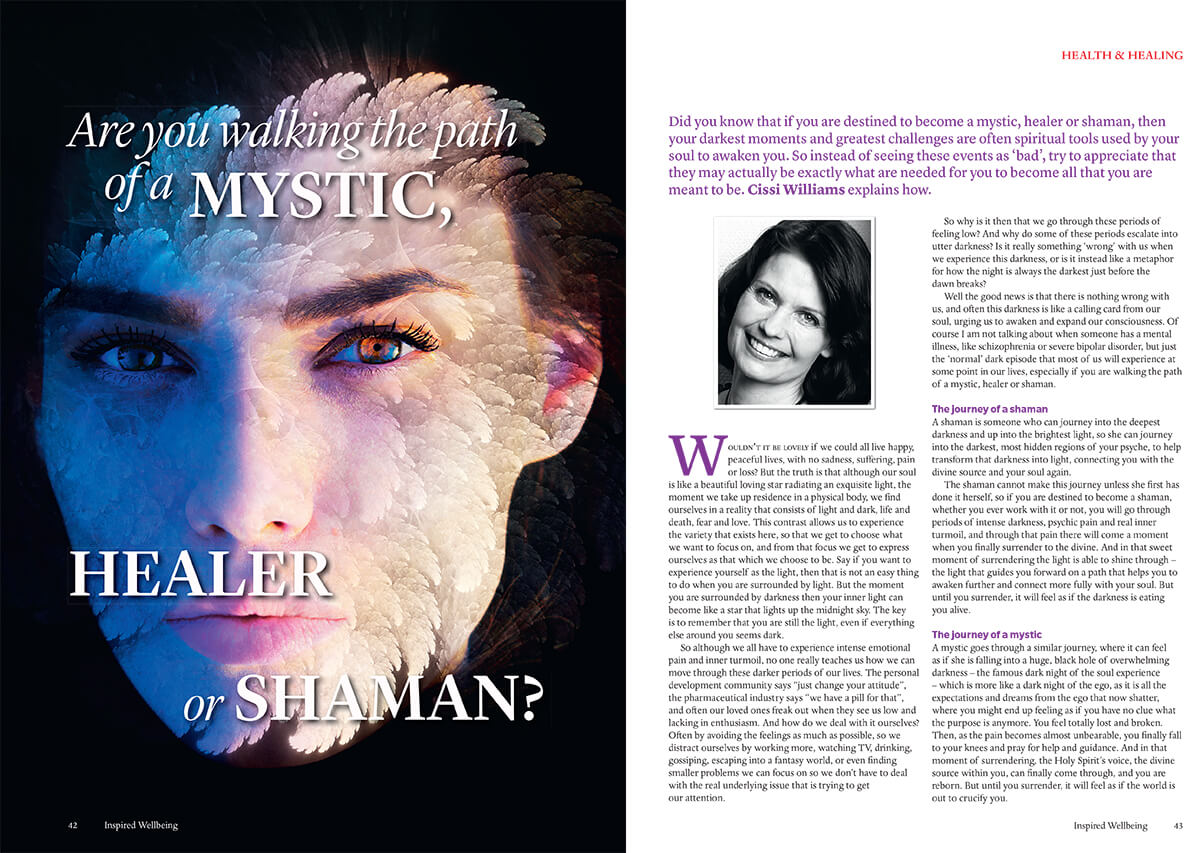 "Cissi is an exceptionally rare soul coach. Prepare for deep and lasting shifts!"

Monika Nybom "I met Cissi at a time in my life when I was so depressed that I was barely functioning. I had been off sick from work for 7 months and indeed was planning my suicide, gathering together medication in order to end it all. I had tried many things; medication, different types of counselling, nothing worked and I was spiralling downwards.
A friend told me about Cissi and while she was telling me I was thinking to myself what a lot of rot, and how I could not afford to pay for my mortgage let alone treatment. Next day I found on my doormat a cheque for £3,000 from an investment I did not know I had!
I booked to see Cissi, filling in a questionnaire to help her and myself look at my problems. I went of to meet her and immediately felt very comfortable and safe with her. About 5 hours later I went home, already a noticeably different person. There was an activity on in the village hall, which before this I would have given a miss, but off I went and I had a great time, with everyone noticing how different I looked. I went back to Cissi the next day for another marathon. Well all I can say is that I was back at work 3 weeks later. Quite simply I owe Cissi my life. I have seen her many times since and she always helps me to see my life in a positive light. I would recommend her to anyone who needs help, whatever form that it takes. Quite simply I love her and I so respect her knowledge and wisdom."

Penny Kane "My mum has continued to deteriorate physically and mentally in the last 2 months. But as a result of doing 'wacky stuff' with Cissi in a soul retrieval coaching session, I was able to release an emotional block I had in my relationship with my mum. I had trouble with anger and resentment and couldn't physically touch her often. Things changed dramatically. I have been able to operate from a place of peace, love and compassion. I can now go to see her, sit with her, and use oils in massage to calm and help her. This transformation has really been a blessing after the years of therapy and spiritual practice I used to put this right. It means I can spend the last part of her life journey in a loving place. So I highly recommend doing some 'wacky stuff' with Cissi as she works with you with spirit and love."

Janis Bissett "Cissi Williams is blessed with a rare and fantastic gift for guiding people through demanding inner work, and releasing them into experiences of freedom, joy, and lots of light. It is fascinating to witness and almost overwhelming to experience yourself. So thank you Cissi for being such a strong channel for love and light into this troubled world!"

Hjalmar Croneborg "Working with Cissi changed by life – for the better. I still refer to her book 11 years after first meeting her as she is one of the most transformational teachers I've ever met!"
Lindsay de Swart
"I have had the pleasure of working with Cissi over the past 4 months. It has been life changing and has most certainly turned my life upside down for the better. Her work is amazing and full of so much love.
I did the course 'Live Your Soul Purpose' as the feeling of being a lost soul had become over powering and a need to find my way in the world was most definitely needed. The course was perfect…very emotional and also great fun. I learnt a lot about the blocks that hold me back in my life and different circumstances that have caused this. Through a series of different meditations and process work, I was able to clear some of these blocks, thanks to receiving gifts to help me on my path and power animals to walk beside me. Using the animals to dance through us was great fun and an expression that I would never have used. The course has helped me make a break-through that has enabled me to continue moving forwards since.
I have continued working through this with further sessions of Soul Retrieval work with Cissi. The whole experience has been magical and my life is starting to sparkle again. I have found a few of my soul parts who now work with me alongside my guides, guardians, angels, power animals and gifts. The meditation techniques are something that is used every day and I can feel myself evolving into the woman that I have always been but never realised.
My confidence has soared and I have found my voice to speak up…something that has held me back for such a long time. I am grateful for the support and work that Cissi does. Filled with so much light and love to shine on the world, her practice is a pure transformation of so many people."

Diane Maccabe "I'd been searching for a long time, searching on the outside, searching on the inside … trying to find something that I was longing for but didn't know how to find. The courses, treatments and meditations with Cissi have been a wonderful help for me to reach my soul, to reach my inner truth and in finding the connection that has helped me heal for real. Now I know that I was looking for me – my soul and the inner connection – and it's a totally different experience to live from this view than from the searcher's perspective. It's more peaceful, but still a journey. Life happens and I enjoy the rollercoaster of it in a better way. I'm braver, I follow my heart even when I'm afraid. I can hear the message from my soul and it makes all the difference. I always need to remind myself about this connection, especially when life happens at high speed. The tools I have are a blessing, even when life is challenging. Now I'm at home with myself."

Lina Lanestrand "Meeting Cissi marked a complete turn-around in my life. When I met her I was struggling to cope with a baby and a toddler who had just been diagnosed as deaf. I had un-diagnosed depression and each day felt like I was suffocating.
Cissi has a light, warm energy and I just felt incredibly safe with her as soon as I met her. She took me on a self-development journey that helped me feel strong enough inside to get through each day. Working with her gave me the strength to do everything that I needed to do for my family – and there is always extra when you have a child with special needs. Cissi gave me a new lease of life for which I will always be grateful."

Naomi Martell-Bundock "Cissi has helped me realise that I have a choice in how I want to experience my life, and a responsibility to create that for myself and my family. I know that when I struggle, I can count on her to help me (in a firm but fun way) to move through my struggles. That is one of the things that I appreciate most about her coaching – she never lets me off the hook, but somehow I am always (in the end) able to have a laugh about it all. I have benefited so much from Cissi's coaching that I would (and have) recommended her to my friends too"

Debbie Price "I have been seeing Cissi on and off over a number of years. I have had coaching, breakthroughs and soul retrieval sessions. Each interaction has been carried out by Cissi in an environment of complete love, care and trust. Rather than do anything 'to' you, Cissi works 'with' you – a big distinction that means she allows your inner wisdom to give you the answers… she just facilitates the process. A natural and holistic way to stay emotionally and mentally well, I use her services as my preferred route to inner wellbeing. I would highly recommend Cissi's services and regularly do!"

Karrin Simpson "I first came to Cissi for osteopathic treatment when I was pregnant and later with my baby who was born prematurely and suffered with digestion problems. The result of Cissi's treatment for my little boy was almost instant and within a few sessions he was a very calm and content baby, all his pain had gone. During our sessions Cissi would talk to me about her NLP training and I later came to see her for a Breakthrough session which I can only say, hand on my heart, changed my life. I became intrigued by the amazing change within myself and I was hooked, I wanted to learn more! By this time Cissi was running training courses in NLP and I did the Practitioner and Master Practitioner training and later Reiki I and II.
Cissi is an exceptionally intuitive, wise and passionate therapist and teacher and is able to facilitate extraordinary change within people. She has the ability to get to the root cause of issues and thus put people in a position to heal lifelong problems once and for all.
Throughout my sessions and trainings with Cissi I can only say she is an inspirational individual, her vibrant energy and passion is contagious, she gives people the tools to move forward, take charge of themselves and embrace the future."

Lene Newman "What are you looking for? I definitely had no idea, but knew there must be something that would help me when I was feeling lost on the inside although looking and being fairly successful on the outside.
It may have been just luck that I came across Cissi Williams' courses and training. To be honest, at the time I wasn't even sure exactly what she did but I felt drawn to her, and she turned out to be an amazing person, truly gifted and passionate about her work. In short, with the encouragement and guidance from Cissi I have found my own path to a more enlightened life."
Joe Marr "My experience of this spiritual coaching is that it's incredibly beautiful and deep. Cissi's transformational soul coaching, with holistic applications of NLP, intuition and presence, goes deeper than anything else I've tried – I've been working with this type of spiritual coaching for seven years now and I love the combination of heart and mind. Suits me perfectly! I can warmly recommend Cissi and her spiritual coaching. Thank you!"

Jeanette Carleson "Working with Cissi changed by life – for the better. I still refer to her book 11 years after first meeting her as she is one of the most transformational teachers I've ever met!"

Lindsay de Swart
"I want to thank you for such wonderful guidance. I was met with respect and honesty, combined with an abundance of happiness and warmth. Even though I didn't know what to expect from the session, I felt completely safe. The Soul Retrieval session was completely magical. I have created the sacred 'altar' you suggested, so that when I look at it every day I am reminded…. Thank you!"

Heléne Sandström "I first met Cissi just over ten years ago in my early twenties. She was the first person who told me that you could have guides in human form as well as in Spirit. Going through a change in career I enrolled in her Higher Self Healing, Well-Being Coaching and Master NLP course. Cissi was not only an inspirational person who affected me greatly though her teaching, her own soul was in part here to help me on what would be the beginning of a personal development path. I've learnt much since then, and Cissi and her course was a benchmark for me. Her heart, her passion, her intention, her commitment to truth and her support will be forever remembered as affecting me greatly. I will never forget meditating in class with her before we started our course and us all wanting to meditate for longer, despite some of us never having done it before. Her ability to remind us of essential truths in a way that is easy to understand, to remember and to be able to implement has been greatly appreciated."

Serena Phoenix
Higher Health and Healing is only 15 minutes drive from Witney and offers a calm, restorative environment.
It is easily reached from Oxford and London by rail, Charlbury being the local rail station on the main line from Paddington, London.